Momentive's thermally conductive silicone gap fillers are dispensed to fill air gaps and voids in electronic components. They work with heat sinks or metal cases to dissipate heat from critical electronic parts. These non-adhesive curing silicones form a soft, stress-absorbing interface and fill uneven areas to improve cooling. Momentive's Thermal Gap Fillers can also be applied to flat or high-profile 3-dimensional surfaces as a cure-in-place thermal pad or as a pump-out resistant alternative to greases.
High Performance Thermal Gap Fillers with Quality You Can Count On
Momentive's high performance thermal gap fillers are designed with performance and supply reliability in mind. Momentive owns our own globally dispersed production facilities. We control our manufacturing process from the base silicone all the way through to the finished product. This ensures you get the performance you need along with full quality control over all inputs as well as the finished product.
Key Features of Momentive's Thermal Gap Fillers
Good thermal conductivity
Fast, low temperature cure
Helps provide stress relief during thermal cycling
Conforms to complex, 3-dimensional designs
Non-adhesive, repairable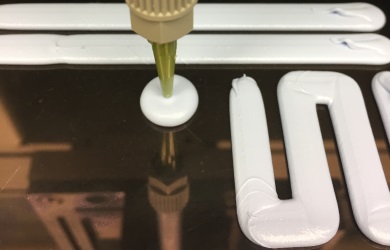 Product Details
| Properties | TIA225GF | TIA241GF |
| --- | --- | --- |
| Mixing Ratio ((A):(B) by weight) | 100:100 | 100:100 |
| Property (uncured) | Non-Flowable | Non-Flowable |
| Color | Gray | Blue |
| Viscosity (23°C) Pa.s | 90 | 130 |
| Workable Life (23°C) h | 4 | 3 |
| Tack Free Time (min) | - | - |
| Cure Condition (heat) °C/h | 70/0.5 | 70/0.5 |
| Specific Gravity (23°C) | 2.9 | 3.14 |
| Thermal Conductivity1W/m.K | 2.5 | 4.1 |
| Thermal Resistance2(BLT) mm2.K/W | 35 (50μm) | 30 (80μm) |
| Volume Resistivity MΩ.m | 6.0x106 | 1.0x104 |
| Volatile Siloxane (D4-D10) ppm | 200 | 150 |
1 Hot wire method, 2 Laser flash analysis on Si-Si sandwiched material
Typical property data values should not be used as specifications.
TIA225GF: Liquid-Dispensed Silicone Thermal Pad
TIA225GF silicone is a two-component thermally conductive material that is dispensed as a liquid and cured in place to create a heat path for efficient heat transfer. After being applied, its non-slumping pasty consistency provides physical stability to help prevent run-off after being dispensed.
Download Technical Data Sheet for TIA225GF
TIA241GF: Liquid-Dispensed Silicone Thermal Pad / Gap Filler
SilCool TIA241GF gap filler is a 2-component, soft, thermally conductive silicone material used to dissipate heat from electronic devices. Its non-slumping pasty consistency offers physical stability that can allow improved processing.