CHOICE IS BEAUTIFUL

Feel the difference. Healthy hair should be soft, full, strong, and shiny, not heavy, greasy, or brittle. Our growing portfolio of multifunctional specialized ingredients can help repair and restore while conditioning each strand, leaving hair easier to comb, wet or dry. By covering each hair shaft with a protective, conditioning film, our ingredients can provide softness and manageability. Use our silicones for hair care to create a touchable feel and thrilling shine that will make your consumers take notice.
---
SMOOTHING AND THERMAL PROTECTION

Steering clear of harsher chemical straightening, many stylists and consumers are now straightening hair thermally with flat irons. These daily styling practices can cause extensive damage to the cuticle, making it crack, buckle and lift. A damaged cuticle can cause hair to look dull, lifeless and frizzy. Our silicone specialties for hair care can provide thermal protection, as well as help repair hair that is damaged by heat.
---
SILSOFT* AX-E PMF EMULSION
Products, such as our Silsoft AX-E PMF emulsion, work in a formulation by forming a protective barrier on hair to help smoothen, condition, protect against heat, keep color from fading and deliver extraordinary shine to straight, curly or natural hair. While various organic oils–esters, petroleum, triglycerides–typically decompose at lower temperatures, Silsoft AX-E emulsion can remain stable at temperatures exceeding 400 °C.


---

SEVERE THERMAL STRAIGHTENING ON DAMP HAIR
Silsoft AX-E PMF emulsion forms a cuticle-protection layer with exceptional conditioning and manageability to help create straight, sleek looks. In order to distinguish between thermal protection ingredients, heat was applied to damp hair with a flat iron until dry.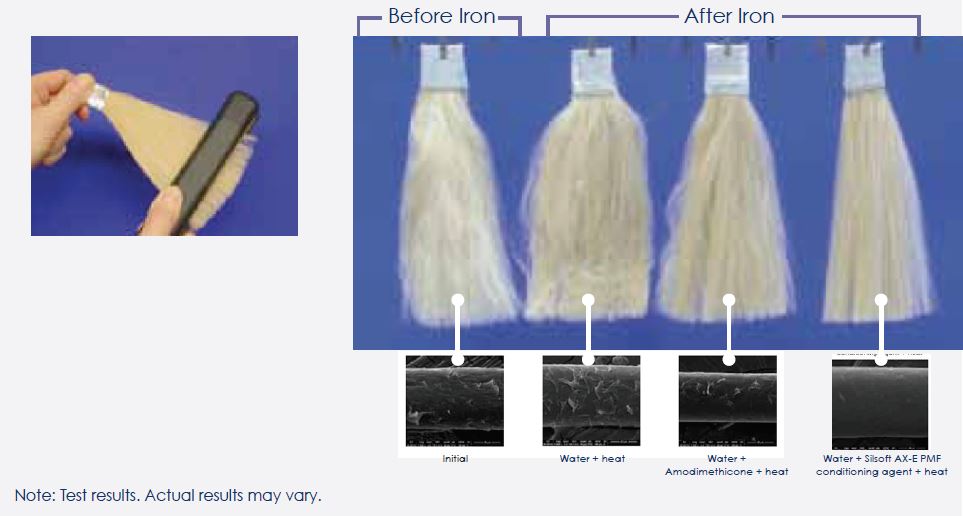 ---
SILSOFT CLX-E EMULSION
Over time, hair is exposed to aggressors such as sunlight, pollution, chemical treatments or excessive heat that can result in hair that is coarse, brittle, weak and/or vulnerable to split ends. Silsoft CLX-E emulsion can help protect hair from this damage and even restore damaged hair to a healthy, more youthful state, that is comparable to the quality of the hair at the root. Improved manageability. Soft, radiant appearance. Lightweight feel without residue. Lasting performance through multiple washes.
---
SILFORM INX FLUID

A multifunctional silicone ingredient, SilForm INX fluid can help control frizz while not weighing hair down. It also has the distinct ability to extend the retention of fragrance in leave-on and rinse-off hair care products.
---
SR1000 RESIN

Today's consumers are doing it all, often in the same day—working, exercising, parenting, and socializing. So, products that migrate or transfer from their hair to clothes just won't do. With SR1000 resin, you can create personal beauty products that stay put to fit these busy consumer lifestyles. With its resistance to water, sweat and transfer, SR1000 resin can help you create formulations such as temporary root touch up spray that quickly covers grays and doesn't rub off.