SilForm™ INX Fluid
SilForm INX fluid is a fully functionalized ionic polymer that can help personal care products, such as skin care and color cosmetics, provide a crystal clear, shiny and comfortable network on skin when dried. Unlike traditional resins, it can enhance durability of long-wear cosmetics while also building on the shine of the final formulation. It can also enhance transfer resistance and gloss without compromising on feel.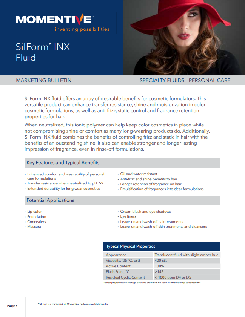 Download Marketing Bulletin
To achieve optimal transfer resistance, SilForm INX fluid is most effective when neutralized to a pH of 7-9. Once neutralized, this ionic polymer can provide formulators with benefits beyond most traditional resins because it does not crack or dull most color cosmetic formulations.

SilForm INX fluid is also excellent to consider for a variety of hair care and personal care applications. In hair care applications, it may help enhance anti-frizz and shine properties without weighing down the hair. SilForm INX fluid has also demonstrated the distinct ability to leave a stronger and longer lasting fragrance impression when formulated into rinse-off and leave-in hair care products.
Key Features & Typical Benefits of SilForm INX Fluid
Enhanced comfort and wearability of personal care formulations
Transfer resistance when neutralized to pH of 7-9
Extended durability for long-wear cosmetics
Oil and water resistance
Anti-frizz and shine benefits to hair
Longer retention of fragrance on hair
Emulsification of fragrances into clear formulations
Potential Applications
Color Cosmetics:
Lip colors
Foundations
Concealers
Mascaras
Cream blushes
Eyeshadows
Eyeliners
Hair Care:
Leave-on hair treatments
Rinse-off hair treatments
Skin Care:
Leave-on skin treatments
Cleansers