Silsoft™ E-Pearl PMF Emulsion
Silsoft E-Pearl PMF emulsion can help promote a soft, smooth feel when used in personal care applications including skin care and color cosmetics. This non-ionic emulsion of polymethylsilsesquioxane powder, high molecular weight dimethicone and an alkyl-functionalized polysiloxane can also provide excellent lubricity and super spreading characteristics that can help impart a silky, sensory effect to skin. Easy to use, Silsoft E-Pearl PMF emulsion can be added to a variety of formulations, including cosmetic formulations containing more than 90% water.


Silsoft E-Pearl PMF emulsion was named 2017's Best Sensory Ingredient by Cosmetics Design's Global Beauty Industry Awards.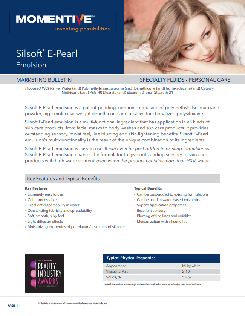 Download Marketing Bulletin
RADIANCE: Create personal care products that deliver a healthy glow with Silsoft E-Pearl PMF emulsion
Today's consumers are doing it all, often in the same day: leading a company, running a marathon, raising a family, visiting with friends. And, they want to do it all while sporting a radiant, healthy, natural glow that brings out their inner beauty. Silsoft E-Pearl PMF emulsion can help create skin care and cosmetics that leave a long-lasting moisturized, soft, smooth, non-tacky, powdery, silky feel that blurs the look of fine lines and brightens skin tone. This easy-to-use emulsion offers excellent dispersion in water-based cosmetic formulations, is cold processable, and can be post added. Beauty trends made easy with Momentive.

The unique combination of multi-functional ingredients can help formulators achieve desired benefits, such as blurring the appearance of fine lines and wrinkles, while delivering improving absorbency, a moist feel, and reduced tack.

By simply shaking, Silsoft E-Pearl PMF emulsion can be dispersed easily in most water-based formulations, such as toners. It can also be added post-formulation and may be cold processed—allowing for formulation flexibility.
Potential Applications
Color Cosmetics:
BB and CC creams
Foundations
Concealers
Skin Care:
Masks
Toners
Moisturizers
Oil-in-Water creams, emulsions and protective products
Sun Care:
*Silsoft is a trademark of Momentive Performance Materials Inc.