Silicones for Smartphones and Mobile Devices
With more power than ever in our pockets, the latest generation of smartphones faces significant challenges to meet customer expectations. Thermal management surrounding key components, such as the processor and battery, are critical for peak performance and a longer device lifespan. Similarly, sealing solutions that keep out water and moisture are equally essential in today's consumer handsets. Momentive Performance Materials has developed leading-edge silicone technologies that are helping its customers meet performance and productivity challenges in a wide range of smartphone applications: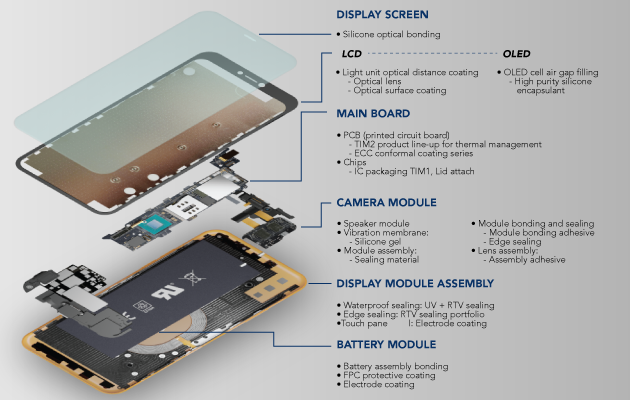 IC Thermal Management
For thermal management of performance components such as Power Management ICs, RAM and Image Processors, Momentive offers curable thermal gap fillers that can provide a combination of good thermal conductivity, physical stability under vibration and temperature cycles, and stress relief.
Typical product:
TIS420C gap filler (1 component, 4.2W/m.K)
Sealing Material for Component Moisture Prevention
Power Charge Connector Sealing
Prevention of moisture ingress to achieve IP68 ratings typically requires more than just rubber gaskets. Liquid dispensed silicone sealants are utilized to provide primer-less adhesion inside the micro USB type C components to help create a protective barrier and prevent the moisture ingress.
Typical product:
TSE388 adhesive (1 component, room temperature cure)
Fingerprint Sensor Assembly Sealing
While Momentive's silicone sealants are also used in smartphone fingerprint sensor assemblies to help achieve an IP waterproof rating, Momentive's silicone encapsulants are employed to dampen vibration around the sensor for enhanced PCB cushioning flexibility.

Typical product:
ECC3051S encapsulant (1 component, room temperature cure)
See also: Momentive's Optical Bonding Solutions for Displays

Sign up for our Newsletter