Multiple live demonstrations of Silopren* liquid silicone rubber at Fakuma 2015
Waterford, N.Y. (September 8, 2015) – Momentive Performance Materials Inc. (Momentive) will feature Silopren liquid silicone rubber (LSR) in a variety of live demonstrations in collaboration with industry partners at Fakuma 2015 taking place October 13-17 in Friedrichshafen / Germany. These demonstrations will showcase the processing qualities and benefits of Momentive's elastomer products for injection molding.
The excellent consistency and processability of Silopren LSR 2670 will be presented via a designer article application from CVA Silicone at Momentive's own booth A4 4307. The demonstration will be conducted on an electrical e-mac 100 injection molding machine with integrated e-pic handling supplied by Engel.
The
new servo-electric e-Flow 20 dosing pump of 2KM has the option to regulate the mixed material pressure. The intricate geometry of the part with a volume of approximately 70 cm³ needs highly precise flow and cure properties of the material to ensure a stabile injection molding process. This process demonstrates that Momentive's Silopren LSR can be used for even most complex manufacturing challenges. The molded part, dubbed Ursula as a tribute to the James Bond girl, is a protective carrier for bottles and has received an award at the Biennale du Design Français.
The Ursula design will also be utilized in the first ever virtual LSR molding demo at Fakuma. Sigma Engineering, the expert for rheological and thermal simulations, will showcase how the highly complex shape of the Ursula part is actually filling and crosslinking. Calculated by the Sigmasoft software, this virtual demo will take place at booth A5 5105.
To address software needs for precise material data in addition to the mold/coldrunner geometry and machine settings, Momentive has started to systematically populate the Sigmasoft database with a variety of standard and specialty LSRs. These database additions will be available with the next major update in November 2015. Momentive's investment in this update will help the global user base to better predict processing behavior and optimize mold design prior to manufacturing.
Silopren LSR 2670 will also be showcased by Elmet at booth A5 5306. Being a full system supplier, Elmet created a beer coaster mold and built a fully automated turnkey cell by integrating an Engel injection molding machine with its own peripheral devices and dosing system. The installed close- loop controlled color injection at the dosing system is a new feature which will be presented for the first time at Fakuma. This innovation controls and documents the real amount of color or additive in the material, which is particularly relevant for the healthcare industry, where an absolute and guaranteed amount of pigment is required in every part.
Dr. Boy will demonstrate the manufacturing of 3 component screwdrivers at booth A7 7101. In the mold, created by EMDE, the steel insert is first overmolded with Polyamide (PA). This assembly is afterwards finalized by adding soft-touch elements from Silopren LSR 2750. This application will show Silopren LSR's compatibility with molding cycles of typical engineering thermoplastics and its option of excellent primerless adhesion. The demonstration confirms the benefit of this technology in many hard-soft combinations for consumer goods and automotive industries.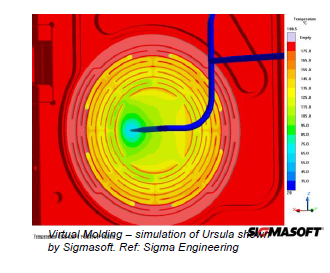 "We are excited to demonstrate our LSR's processing reliability not only in reality but also virtually for the first time on the exact same part," said Oliver Franssen, Elastomers Global Marketing Director. "These demonstrations highlight Momentive's technology based approach along with our broad industry network and robust LSR product capabilities."
Visit booth A4 4307 to learn more about the complete portfolio of Momentive Silopren LSR and other silicone elastomer solutions. Additional information is available at www.momentive.com.
About the Company
Momentive Performance Materials Inc. is a global leader in silicones and advanced materials, with a 75-year heritage of being first to market with performance applications for major industries that support and improve everyday life. The Company delivers science-based solutions by linking custom technology platforms to opportunities for customers. Momentive Performance Materials Inc. is an indirect wholly-owned subsidiary of MPM Holdings Inc. Additional information about Momentive and its products is available at www.momentive.com.
Media Contact:
Ashley Conger
+1-704-805-6226
Ashley.Conger@momentive.com
Dominik Schlefers
+49 (0)214 30 35370
Dominik.Schlefers@momentive.com
*Silopren is a trademark of Momentive Performance Materials Inc.