Go Back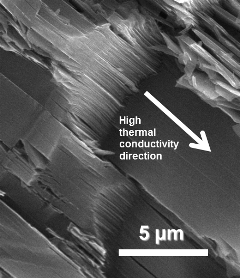 Thermal Pyrolytic Graphite (TPG), a distinct synthetic material produced by Momentive via chemical vapor deposition, contains millions of layers with highly-oriented stacked graphene planes and offers excellent in-plane thermal conductivity (>1500 W/m-K) and very low density (2.25g/cm3).


Property comparison between commonly used thermal management materials
Material

Thermal Conductivity

(W/m-K)

Coefficient of Thermal Expansion

(10-6/oC)

Modulus

(GPa)

Density (gm/cm3)

Specific

Thermal Conductivity1)*

Aluminum

210

23.6

68

2.7

81

Copper

400

16.9

110

8.9

45

AlSiC

180

9.5

167

3.0

62

W85Cu

190

7.0

310

15.6

12

Mo70Cu

170

9.0

240

9.8

17

TPG Graphite

0

30

2.25

650

24

11
1) Specific Thermal Conductivity: Thermal conductivity divided by density
Typical properties are average data and are not to be used as or to develop specification.


TPG composite with metal encapsulation works simultaneously to achieve high thermal conductivity from the TPG core and high mechanical strength from the metalshell. Momentive's proprietary technology enables an intimate and strong bond between TPG and dissimilar metals, including Al, Cu, Sn, W, Mo, WCu, MoCu, and stainless steel.
Highlights:
Key Features:

Light weight
High thermal conductivity
Hermetic
CTE matching to semiconductors
Machinability
Platability
Solderability
Board level and chip level thermal management

Typical Benefits to high-power electronics:

Temperature reduction
Weight saving

25 years of serving Telecommunication & Satellites, Military Aircraft, Radar Systems, and Unmanned Aerial Vehicles.
Recipient of Boeing's Gold Supplier award and L-3's Top 10 Supplier for quality and delivery.
AS9100 certified.
Momentive currently serves a number of industries that include:
Aerospace
Defense
Semiconductor
Telecommunication
Automotive
LED lighting
Laser
Medical
with a family of advanced thermal management products, which includes
TPG Thermal Levelers
TC1050 Heat Spreaders
TMP-EX Heat Sinks
TMP-FX Thermal Straps

Potential applications:
Thermal leveler, wafer susceptor, thermal strap, heat sink fin, heat spreader, heat sink, cold plate, chip carrier, flange, laser submount, traveling wave tube mount, chassis, thermal core, insulated metal substrate, metal core PCB



Typical Applications of TPG-Based Thermal Management Products